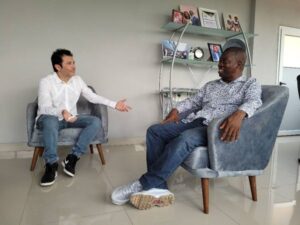 Sierra Leone Superstar Artist Nassar Ayoub, Visits Canadian College Of Modern Technology In Mile 91
One of Sierra Leone's topmost musicians, songwriters and investor, Nassar Ayoub has in a short, but grand ceremony performed for students and staff of the Canadian College of Modern Technology at the college campus in Mile 91, Tonkolili District.
Nassar Ayoub is a Lebanese/Sierra Leonean musician and businessman who hails from Kono, Eastern Province. Nassar was born in Sefadu. He is well known for his single 'Tranga Yais Borbor'. Nassar, burst into the music industry in Sierra Leone with a single track which was done in collaboration with 'Daddy Saj,' and the song was titled One Love.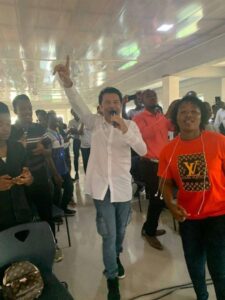 During the visit at CCMT, the Principal of the college, Mr. Jacob Sax Conteh Sr., said his visit was needed so as to enhance interactive learning. He said that the college regards students as vital stakeholders and that facilitating a conducive learning environment was a necessity. Students of CCMT were jubilant over the visit of the superstar and they certainly could not hide their appreciations.
Ayoub further encouraged the students to be committed to their studies and to negate all forms of vices. He said that education was an important instrument that anyone could use to better situations. Nassar stated that he was also particularly impressed with the infrastructure and technology at CCMT, adding that the facility is one of its kind in Sierra Leone.
Nassar had a brief interview at the CCMT Television and he also later toured the CCMT Radio and the campus' E-Library facilities.
Students expressed delight over the coming of the artist and noted that such sessions have the inclination to make the campus very lively. On this, the Registrar of CCMT,
Adam Goguen said that it will be welcomed if Nassar was to visit the campus again in future
Nassar also held discussions with the college's Chief Executive Officer and Founder, Mr. Muckson Sesay Sr., and it was further revealed that the CEO and team were doing a fantastic job for the growth and sustainability of the campus.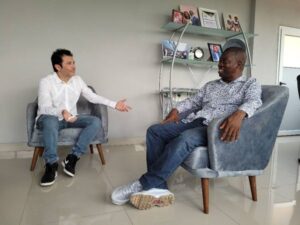 Mass Communication Lecturer at CCMT, Ms. Mamadi Monica Khonte said that she was pleased with the coming of the artist and that students may wish to get motivated over the occurrence. She added that it was always significant to back entertainment facilities with academics, stating that all work and no relaxation may not always be productive.
Nassar was accompanied and joined onstage by another artist named, King's Father, who is an indigene of Mile 91, plus some CCMT imminent artists and emerging musical stars that also entertained students and staff.
The visit, which was considered memorable, was organized and facilitated by some Mass Communication students of the CCMT Television, and it attracted senior management staff of the college including, but not limited to the Human Resource Director, Finance Director, Heads of Departments, including Lecturers and other administrative members of the team. The students who were the organizers said that the event was hosted to entertain students and staff and to add up to the college's prominence and admiration not just in Sierra Leone but across the globe.
With such developments, the college, which is now in some higher gears will soon be approved to become a university and students and staff are convinced that CCMT, which quickly soon be the Canadian University of Modern Technology, will continue to
leave up to expectations and to match international standards.
Mass Communication Department
Canadian College of Modern Technology, Mile 91
Contact – Mr. Sulaiman Mansaray – Head of Department – +23276619568
Email – smansaray@ccmtsl.com
Ramdam photos of the college
| | | | |
| --- | --- | --- | --- |
| | | | |
| | | | |