Billy Harry T. Sesay is the Founder and Executive Director of Job Link Sierra Leone, an online social media platform that Brings people with the Latest Job Vacancies and other opportunities daily on their social media platforms( Facebook, Whatsapp, Twitter, Instagram and more. and a Finance Manager at Planting Naturals (SL). He is an activist, entrepreneur, and patriot based in Makeni. Born in Bo city, Southern Sierra Leone, Billy left at his tender age to pursue his early childhood education in Freetown.
He attains his primary education at the Sierra Leone International Mission School and later proceeded to Bo School, where he acquired his junior and Senior Secondary School education. He holds a BSC in Accounting and an MBA in Finance from the University of Makeni.
Billy has worked in several institutions, in 2013, He Worked with VendTech SL as Accounting Clerk, Makeni City Council at the Revenue Collection Department. He is currently working with Planting Naturals (SL) (www.plantingnaturals.com) as a Finance Manager for 3 of Its Subsidiaries in Sierra Leone (Nedoil at Yele Town, Sierra Organic Palms at Rutile and SLA at Portloko)
He has received several accolades for his service to humanity and excellence in education, in 2015, He was awarded a debate hero with 49 others by Sierra Leone debating council, in 2018, He was enlisted 100 most influential youth by the ministry of Youth and FEPYOCAN, in 2019, Best Student Personality at the University of Makeni, 2019, Good deeds Sierra Leone Humanitarian award of the year. He recently won the YALI Leadership Award for West Africa Cohort 15 -2019. YALI is The Young African Leaders Initiative (YALI) that was launched by the United States government as a signature effort to invest in the next generation of African leaders.
Billy is happily married to Fatmata Billy-sesay, with whom he has been taught life's best stories.
At Salone Messenger, we had an exclusive interview with him during this corona pandemic about his work
Tell us about Job Link Sierra Leone?
''Job Link was borne out of the desire to help identify and proffer solutions to issues affecting youths in accessing jobs by creating a link and networking through information sharing regarding jobs and other opportunities (I.E, Job postings, CV and cover letter tutorials, Relevant Information sharing with job seekers and entrepreneurs to build their capacity to access the various job markets and opportunities for potential entrepreneurs and work ethics). This information sharing and mentorship will eventually help build the human capital and getting youth ready and fit for their desired job with greater performance output. I started a closed WhatsApp group of university graduates in 2016 were I shared job vacancies and provided assistance as well as tips on how to go about with the necessary application procedures. Ninety-eight % of us succeeded, thereafter we begin to spread the news to other graduates thus we included them. The forum became larger by the day, with lots of job opportunities shared daily, and this continued till mid-2018 when I decided to move it beyond just been a WhatsApp group to an organization that can impact several lives, so I called on few friends to help form an organization. This was geared towards addressing a major gap in Sierra Leone within the context of youth unemployment such as access to job vacancies, tips, and tutorials on cover letters and resume, as well as overcoming interview frights. We leverage on the technology and the emergence of social media
The organization was formally registered on the 20th July 2018 as a community-based organization, now a Registered Company in Sierra Leone. In September of the same year, we reached out to some of our colleagues in different fields of study who shared the same vision with us to see how we can form a well-dedicated team that will significantly contribute towards achieving the dream of the organization''
What gap did you see that led you to create this job link Sierra Leone?
'' The gap was, difficulty in accessing job opportunities from all over the country, so, we leverage on social media to provide access to Job and other Opportunities and Application Procedure through which is very easy than the traditional buying of Newspaper and surfing online (the latter is expensive in SL). An opportunity we saw was the Youths spend more time on WhatsApp/Facebook/Instagram/LinkedIn therefore we chose these platforms to effectively be sharing jobs adverts and other opportunities'' = Getting the Opportunity Close to you is a major factor to achieve it.
What platform do you use to share your job opportunities and how effective?
From 2018 to date; FACEBOOK: Where we have over 15,000 followers – www.facebook.com/joblinksierraleone
''From April, 2019 to date: INSTAGRAM: Where we have over 800 followers – @joblinksierraleone
From January, 2020 to date LINKEDIND: Where we have over 1,250 followers – Search for Job Link Sierra Leone and connect
From January, 2020 to date TWITTER: Where we have over 100 followers – @job_leone
From 2018 to date WHATSAPP: Where we have over 2,000 members into 12 groups (to Join whatsapp at +23277800471)
OUR WEBSITE: www.joblinksl.com ''
Considering the competition, what makes your platform unique than other platforms?
''Easy access to jobs and other opportunities as mostly Youths are using these platforms every ten minutes, therefore, posting these opportunities there makes it easy for them to come across/access it. We don't only post the job opportunities, we also assist in application procedure (CV/Cover letter reviewing), we assist with Job interview tips and questions and answers.'' All of what we do now is free!!
What are your greatest milestones?
''For me, it's the establishment of Job Link SL, which has contributed in the lives of many people to been gainfully employed or attached through an internship, fellowship, workshops, mentoring, volunteering, and lot more. We also won the Jamboree Social Media Impact Awards for the Best use of WhatsApp group in Sierra Leone''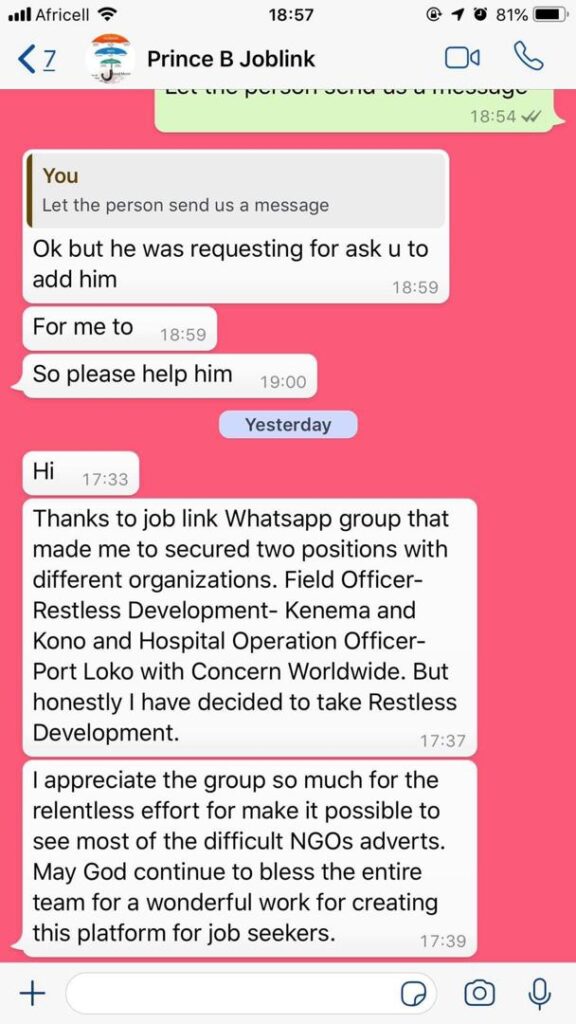 What are your challenges?
''Our biggest Challenge is Finance and its related: All finances that go into Job Link SL's operation at the moment is contributed by its executive members. That is, managing our platforms, occupancy, ICT and its equipment, and volunteer's stipend.''
Do you have any new things you are working on that you will like companies or individuals to know about and support? Tell us about it?
''Yes, Yes, Yes, We are working on our mobile APP to integrate all we do. From Job postings to Interviews tips and keeping up with relevant opportunities plus a 24/7 support to job-related questions. We are working on reaching out to organizations to do their adverts and recruitment at a less cost than any other platform as certainly job advertisement cost is high in Sierra Leone. For instance, our app is up. We are looking up to mobile companies like Africell, Orange, Qcell, and others to integrate and make this app free for three or more months for Sierra Leoneans to have access to getting jobs on their phone at any point in time and wherever in the country with our Job Link app. We have the Expertise already set to undertake this – This should be very less expensive as necessary. We are almost completing our Work Library and Soft Skill Centre Setup in Makeni,''
What is your message to young people looking out for job?
''Ask yourself first, are you employable or unemployed? Grow your skills in what you do today by linking with leaders in your area of study and learn the new technologies on the ground, the world is moving tech, If you are reading this now, you should know how to send emails, use MS Word and MS Excel at least, Try volunteering, Network as much as possible with relevant people in your industry and let them know you are out of a job. Think about a problem in your community and find a solution to solve it today – Social Entrepreneurship. Find a mentor: A mentor is not who you admire, It should be someone who is willing and ready to help you grow your skills and should want you to grow bigger than them. I recommend Mextor X Africa. www.mentor-x-africa.com''
like What You Read? Buy Us A Drink