By: Sallu Kamuskay
It is not a news in Sierra Leone; if you are on social media (Facebook or WhatsApp), or you listen to the radio or watch TV stations or walk along Sander street to Eastern police using the route of Siaka Stevens Street, you will see young and selfless Sierra Leoneans with the same color top-dress with white baskets feeding the homeless in the Street of Freetown.
Now, you may be wondering why the homeless and mentally challenged?
These people may not have any value or impact in the society; but we are forgetting that they are humans too like us.
How it all started? sometime in May last year, Mr Hassan Koroma went to buy some food at a local restaurant around his community, as he was eating the food, this young and homeless lady came by, and she wore a tattered dress; not good looking, but was having Le 3,000 with the hope of buying food to eat (like any normal person could do).
The restaurant attendant refused to sell the food to her because of her dress and the way she looked (homeless and mentally challenged). situations like this are common because she doesn't want to see her customers watching her sell to such a person. Hassan, seated in his little corner in an observant mood was very saddened by what he saw; he asked the woman to put the remainder of the food he was eating in plastic and he called the woman and gave her the food and left. This was never a solution according to him because there are many people living in such a situation in the country. How can he help others like this lady was his greatest question and assignment.
One morning, he was on Facebook with a long time friend who had traveled to the United States of America. He sent him a message; his friend lost his parents in a short time, he disclosed to Hassan that he was looking for a way he could help feed 25 people in memory of his parents. He had no idea, he has not been in the field of charity or advocacy, knowing that Hassan
Hassan is now a social worker, he wanted some advice from him. Mr. Koroma disclosed the story of the lady and his interest to help many others. The young man agreed to be sending food for 25 people every Sunday. Hassan no longer worries about how to get the money to feed these people.
Hassan, who gave his all among few for social work to be recognized as a practice-based profession in Sierra Leone has kept the Sunday feeding for almost 7 months since its inception.
I have been a friend to Hassan Koroma for over six (6) years on Facebook; we chat, talk on the phone, but for us to meet was our greatest challenge. I have been following his good work for all the past 6 years on Facebook; ranging from using his small room as an office to getting three rooms and boardroom at 4 Sander street. Mr. Koroma, like few young people around the world, has started promoting social work as a practice-based profession since 2012 at his 4 Sander street office. At a time when many had no clue about what the social work profession is all about, he grew within the setting of an extended family, he knew how it was like in such a situation where opportunities are limited. Many call him a replica of his father, he loves being around people, supporting them, and making his little available resources for his friends and those in need. Exactly what his father did all through his life before his death.
Finally, in September, after he started an amazing exercise to help feed the homeless and mentally impaired in the street of Freetown, an idea that attracted me so much was the fact that I had the opportunity to meet with this young man at his Sander street office around 4 pm. It was almost time for prayer, I met him preparing himself for the Asri prayer, few things you cannot stop from this young man are his love for religion, humanity, adorable smile and prayerful.
He hugged me, reminded me of most of the articles I have written in the past. I also did the same and also reminded him of the photo he took four years ago in his home office; head bowed and was in a sad mood. This reminds us of what normally Africans do when they meet. I told him my interest to be part of the Sunday feeding exercise, before that, I asked him about the requirements, he was quick to tell me that all he needed from me was my time and for me to be telling the stories of the amazing volunteers including Sierra Leonean Superstars: Shadow Boxer, Fantacee Wiz Camara and Heyden Adama who gave and at the point; still giving their time every Sunday to help make the process easier. "Salone Messenger, the storyteller, is all we need," he said.
I found a place to fit for the process; as a storyteller, I had my phone which I use as a camera to capture the intrigue and history related moments and also as a tool on social media platforms to share stories. I realized you don't need money all the time to help make a difference. You just need the heart of love and compassion.
This young man, as I write, through the support of organizations, individuals around the world, has been able to keep the Sunday feeding exercise of 100 people sustainable since its inception. It has not been an easy journey; living in a poor country and where most countrymen don't think about the vulnerable men and women who are abandoned and homeless in the streets of Freetown. These people deserve a better life too.
Fast forwarding, I did not stop in just telling the stories, I was able to influence fellow Sierra Leoneans from both home and abroad to join the process either by contributing, praying, giving their time or re-sharing the stories. I brought movie makers, heads of charity organizations, average Sierra Leoneans, superstars, etc who contributed towards making this a reality. These men and women were inspired by the commitments of the other volunteers; the approach we used, the love and compassion we have for these men, and women in the streets of Freetown who form an integral part of the country's population too.
To send in your support, contact ‪+23278729280.
For donations outside of Salone, please reach out to @Lift a Village
(@Aisha Koroma).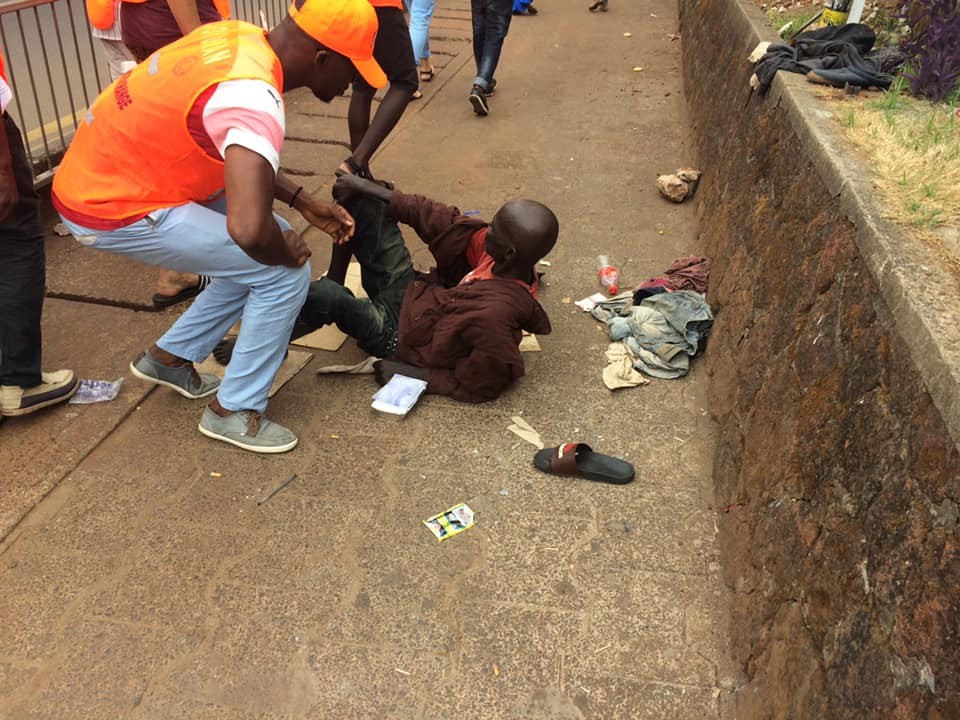 like What You Read? Buy Us A Drink