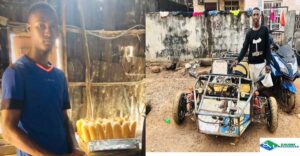 In Ibrahim's young days when he was walking around, picking empty containers and scrap metals to build small vehicles for his friends , his father who is a mechanic use to encourage him to realize his true potential.
18 year old young Sierra Leonean creative innovator, Ibrahim kamara who use to sell bread in the street of Freetown has built the first ever Luct car from Sierra Leone.
18-year-old Boy Who Use To Sell Bread Built Luct Car From Scratch In Sierra Leone#salonemessenger#Salonetwitter#Africaninventor pic.twitter.com/Kx0BJ43NYp

— Salone Messenger (@Salonemessenger) January 2, 2022
Born on the 10 october 2002, 18 year old young Sierra Leonean creative innovator who use to sell bread in the street of Freetown has built the first ever Luct car in Sierra Leone.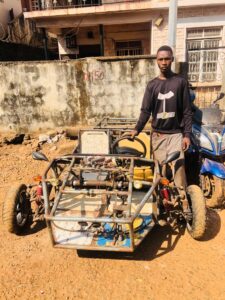 Ibrahim attended the saint Edward senior secondary school schooling where did his secondary education. He later dropout of school because of lack of support and started hawking in the street of Freetown by selling bread for survival. Being a creative innovator, Ibrahim wanted to do something good with his life, innovation was that gift he wanted to explore, he started collecting trash from the country's biggest dumpsite at Ferry junction where he collected used materials.
Ibrahim is a  creative innovator who is working on a  sustainable transportation system to stabilize the economy standard of sierra Leone and African at large,
It is no doubt that Sierra Leone and Most African countries are depending on imported vehicles from international company outside of Africa which have led to the increase in cost of vehicles, with the high demand of vehicle's in Africa to support business transportation, this have led many company to spend 1/3 of their money out of the country to purchase this machines with a high expenditure to maintain or repair them, some of this machines are not suitable for our system in Africa.
The luct car use automate car operation system, the fuel as a source of energy to operate. When asked about what makes the car different from others, Ibrahim Said
"This luct car is an automate car that use lesser fuel compare to order car and our we are trying to convert it into electric car."
Ibahim hope to establish these luct cars to introduce transformation to Africa and expand the African technology to the world with more advanced and improve vehicles with affordable price for both the affluent and the poor that is suitable and environmentally friendly with lower cost, so that there be easy flow of businesses in Africa.
Ibrahim, like many other young ambition innovator is looking forward to support to make his creative come to reality, He disclosed to Salone Messenger
"I really need support to implementation of this system it will bring success not only to the sierra Leone, but Africa transportation, it will bring a change to sierra Leone and Africa economy."