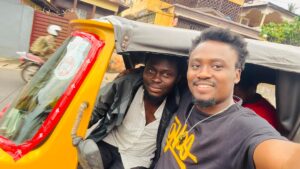 Honest Kekeh Rider Returns Phone That A Man Forgot In His Kekeh In Freetown
A Kekeh Rider named Mohamed Aruna in Freetown, has been rewarded for his honesty after he returned a phone that a man forgot in his Kekeh. According to the Facebook post of the man, Billy Harry T Sesay who forgot his phone in his Kekeh, "I left my phone in his Keke one evening last week, Mohamed had to go all out to get my phone back to me intact" He said, the Kekeh rider who had picked up the phone had been responding to Billy's calls and according to how he saved his number on the phone. "he answered all of my calls appropriately and he knew who to talk to about getting to me as to how I saved the numbers in my phone and came right to my place and hand me my phone. (I asked him how he did it – say some number e nor pick because e nor wan for tell dem but the phone e loss wan but wae e see some number e know say if e nor pick r go get issues with the people so e pick en explain), he said on hi Facebook about what the Kekeh man told him.
Billy posted on social media encouraging and celebrating Sierra Leoneans to work with Okada riders like Mohamed Aruna because of his honesty and shared his number on his facebook account "If you wish to hire a Keke man, I am sure Mohamed is the man, and you can reach him on 030 52 11 25.
Mohamed is not here on Facebook (I guess) but I got to post this to assure us all that some good people are hustling with the fear of God out there. Thank you, Mohamed.
" he said.
We celebrate Mohamed for his honesty.