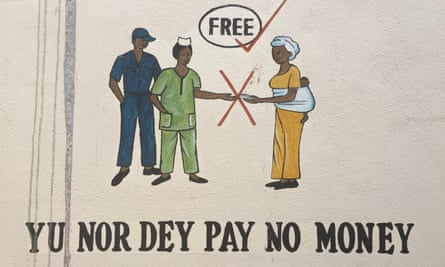 Ending Corruption in Sierra Leone: It is no doubt, that the future of any country that is ready to move forward depends greatly on how seriously they take issues that have to do with corruption, or how it institutions charged to fight corruption is made independent and capacitated to fight those who are involved in it. Our leaders, both past and present, unlike many other African countries, have been greatly involved in corrupt malpractices, sadly most of those who embezzle our public funds are celebrated in churches and mosques ( houses of God). When they appear to make donations in those religious gathering, they tend to use religion to lure the minds of people as the cleanest of people, while the rest of the looters use %80 of the country's youthful population to engage on social media fight against each other for them to come back and loot, others, spent millions of Leones buying cheap and harmful alcohol to get the support and praises of the youths, while the country and it institutions continue to collapse.
"Corruption is cancer: cancer that eats away citizen's faith in democracy diminishes the instinct for innovation and creativity; already-tight national budgets, crowding out important national investments. It wastes the talent of entire generations. It scares away investments and jobs" – Joe Biden
According to the Corruption Perceptions Index (CPI) of 2019, Sierra Leone was at level of 33 scores in 2019, up from 30 scores previous year, there is a change of 10%, second highest since 2009 with %15. This shows a lot better than before, but where is the corruption happening, how is it happening and what has been done?
Sierra Leone's President Julius Maada Bio has been on record pledging to fight corruption with a popular statement "this is a fight we must win''. His appointment of one of Sierra Leone's youngest anti-corruption commissioner, Francis Ben Kaifala , The current head of the ACC is Francis Ben Kaifala, a well-respected and erudite multiple award-winning lawyer who before now was in private practice. Francis Ben Kaifala, LL.M (Lond.), LL.M (UT-USA), LL.B (Hons.), B.L is the 6th and youngest Commissioner of the Anti-Corruption Commission of Sierra Leone since its formation in 2001. Before his appointment, he was the Senior / Managing Partner in the Firm Kaifala, Kanneh & Co. situate at Top Floor, 81 Pademba Road, Freetown – a law firm he co-founded which has captured a huge market and reputed for quality legal service and speedy delivery. He is a household name at the Sierra Leone Bar and had served as the Public Relations Officer and Spokesman of the Sierra Leone Bar Association in the year 2012-2013. Francis is currently the President of the National Anti-Corruption Institutions in West Africa with a portfolio to chair the Executive Committee and coordinate the effective campaign against corruption in the sub-region. A man, many young people over the years have greatly relied on when it comes to issues surrounding human rights and justice in the country. Since, his appointment, many seems to have seen this young man regenerate the office by bringing young energetic people and taking corrupt cases to court involving corruption, recovering millions of dollars from corrupt civil servants.
Alas, our people are still left with so many unanswered questions regarding corruption in Sierra Leone, the Commission of Inquiry (COI) unearthing so many corrupt individuals that have left many citizens asking, where those who were named in these corrupt practices acts are? what has been done to them? how do we ensure this is communicated well to the public to prevent other public officers from involving in it? It is either the same old cycle of arrest, arraign, release on bail continues while the country continues to lose billions of money meant for investments. Could the spending of billions on COI be a waste of resources? Could the ACC if empowered, would have performed the same function as in the COI that will save us more money?
Failed institutions continue to be a big challenge that we have to deal with as a country. We have developed a culture over the years, where we make lords out of the leaders heading public institutions such that when they leave, the institutions collapse. The judicial system needs to be strengthened to ensure that those caught face the full force of the law. Modalities should also be put in place to ensure that the monies that have been stolen are reclaimed and use appropriately.
Problems and what must be done to slay corruption in Sierra Leone?
CIVIC EDUCATION BY THE MINISTRY OF EDUCATION, ANTI-CORRUPTION COMMISSION AND THE NATIONAL COUNCIL FOR CIVIC EDUCATION AND DEVELOPMENT (NACCED)
Integrity Cannot Only Be Taught In Schools, but It also Has To Be Inculcated In Children So That As They Grow Up They Know What Is Right And What Ought To Be Done Rightly.
One thing is clear, that is, this generation of young people above the ages of 18 have seen and accepted corruption, if not all, but most of us just think it is ok when serving government officials to use government vehicle for our private use: going to the beach and catching up with family members or personal affairs using government vehicle, we just think and are very happy using government funds meant for the development of a certain institution to loan and put into our personal business. In fact, that driver in the street of Freetown is very ok to give le20,000 to a traffic police officer for a minor crime in secret place instead of paying the actual amount to the right institution. That student, right in secondary school is given 50,000 by his parent or he or she can raise it to give to his teacher for grades in open or secret and nothing will be done about it. It is just ok. The least could go on and on, the sad reality is that most of us are aware that these are wrong, but tend to give blind eyes because we are born and have been nurtured to believe that these actions are ok, nothing can be done or we should just manage.
Moving forward, we can save the future of the younger once growing up to not see and accept corruption by introducing civic education in schools with a subject or topic centered around corruption and it dangers. According to publication by Politico.sl newspaper, the National Council for Civic Education and Development (NACCED), a body established by president Bio in August 2018. With the goal of promoting the demand for good governance by addressing a wide variety of political and governance issues such as civic education and apathy. It's a year clocking since it was established, but nothing has happened with it implantation in schools.
Civic education requires a change in the school curricula to incorporate lessons on integrity and the various ways in which all citizens can participate in the fight against corruption and their responsibility to the county.
In ensuring that we curb corruption in Sierra Leone, we must ensure that the children who are currently in schools are been introduced to Civic education which exposes and teach them to know their rights and wrong. Our society is lost if our children don't know what they should do and not do in our country. Introducing a topic under the civic education that will be centered around teaching children on the dangers of corruption and letting them know that if they involve in an act of corruption they will be name and shame publicly. Teach them that if their teachers in primary schools ask them to give them money for grades or whatever reason outside the school curriculum should be reported to their parents and a free corruption line should be created for family members to report corruption cases.
Civic education is necessary to ensure that the public is made aware of the adverse effects of corruption. Every citizen should be informed on their rights to ensure that instances of bribing the police are reduced or at best stopped. Calls from the civil society have been loud on making Sierra Leoneans rise up to fight against corruption. The public should take an active role in holding the leaders to account and also in voting out leaders who are mentioned in corruption scandals. Creating awareness and letting people aware of the danger of corruption when they are young is one step to building their minds in ensuring that they don't involve in corrupt practices.
INTRODUCE TOUGHER LAWS
To start with the parliament has to live up to expectations and introduce and implement stringent laws. Fixing Sierra Leone's parliament will ensure that all other sectors live up to expectations. the implementation of the laws, honest and impartial judiciary system, a very powerful private sector audit firms responsible to audit any government institution and bring forward lawsuits (cases) of corruption to the Supreme Court, private police and military policing department to police this institution and prosecute unlawful behaviors from within.
A very thorough government security system controlled by a private sector including close circuit television (cctv) installed on all government own buildings. Also, a very robust criminal records department that can be looked at for all job and future government appointments
VALUE SYSTEM BY RELIGIOUS LEADERS AND STATE INSTITUTION
Of great importance also is our value system. In Japan, public officials feel guilty and opt to resign long before the system kicks them out of office if they are found in corrupt practices. Here in Sierra Leone, however, national values are long dead. Leaders literally loot the public coffers dry but have the audacity to even go to churches and masjids to give that money and are not even afraid of the judicial process. Even from the basic unit in society, the family, we need to cultivate a culture of transparency and honesty. Ensuring we create a system where all those said to have involved and found guilty in corruption cases should be exposed, named and shamed and institutions such as the churches and masjids should not accord them privileges because of even God frowns at corruption in both holy books.
INTRODUCE TRAFFIC LIGHTS AND ORANGE MONEY FOR TRAFFIC OFFENDERS BY SIERRA LEONE ROAD TRANSPORT AUTHOR AND ANTI-CORRUPTION COMMISSION
Clearly, the most accepted places and by people who in fact teach us that corruption is legal and fine are the traffic police. The arrest of drivers in the street of Freetown most especially public busses for only the driver to give the traffic police 1 dollar which is about 10 thousand Leone in front of passengers or sometimes secretly for minor offenses like packing in the wrong places, broken glasses or punctured tire is rampant and other of the day. It either the driver tell you after given the police
Or do it openly, this in broad daylight teaches us as passengers in these public busses that corruption is legal and can be done in open. Such practice is even exposed to children while they are in these busses, the tendency for them to inculcate such practice and do in the future is high.
In other to minimize this, the government should introduce street lights in major areas that will monitor and capture traffic offenders, a tickets system and orange money number should be introduced by Sierra Leone Road transport author for minor offenders pay via orange money and Africell money. The system should be set up in a way to ensure that when for example an offender wants to pay for a particular offense, on the payment area of the mobile network, it should indicate all offenses and prices for all. So the offenders will select the offense and make payment. This will in fact help owners and drivers of busses plying the country with accountability and transparency because a text will be provided to the offender for the offense he has paid for which he can use to show to the bus, taxi, or okada owner to be aware. This helps a lot in ensuring that traffic police officers or police In general do not collect and squandered this money by reporting it to the appropriate authority. In ensure that this is well monitored and the right thing is done, an agent from the Anti-Corruption should be present to monitor and ensured money is paid and reflect on the account. This might not end corruption, but it will slay it.
THE MEDIA BY ALL MEDIA HOUSES BOTH PRINT AND ONLINE
Ending Corruption in Sierra Leone requires the media to play a critical role in this corruption story. The control of media outlets by the state is however a setback in this fight. While highlighting these stories as has been done recently in revealing the several scandals in public institutions, more needs to be done on the side of the media to expose the faces behind these scandals. We need to see more action being taken after such stories hit the headlines. Perhaps this is where investigative journalism should come in handy. Ghana's top investigative journalist Anas has set the bar in as far as investigative journalism is concerned and the impact attained after his stories break is a testimony of the media's power in ensuring change.
The war on corruption is not one in vain. Our approach thus far has been limited but with the right focus, we will soon triumph. We should see a more concerted effort from all players in society beginning with the family all the way to the presidency.
like What You Read? Buy Us A Drink